Member Information
This area will be used for information about specific members. We may list each member's birthday for the month, or other significant events, such as weddings, births, or graduations. This is a great way to keep up to date on how fellow members are doing. We could also have links to members personal web sites.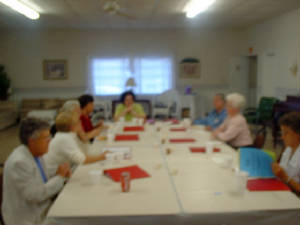 Above are our members enjoying a covered dish dinner to kick of the new year for us!
Below are our Blue Ribbon winners in our annual arts and crafts show, these ladies will now move on to our district contest, and from there on to the state level. Good Job Ladies!!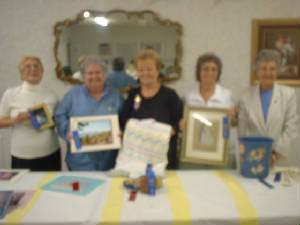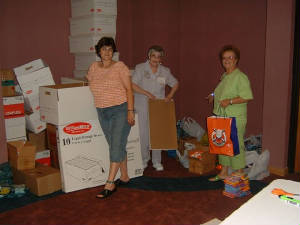 Above are members of GFWC-WV working on the special project during our summer conference. We filled 37 boxes with school supplies that were donated by the women of GFWC-WV. They were presented to Special Education Teachers in Braxton county.
Below are 3 hard working ladies preparing a meal for 62 hungary square dancers. this was a project we did to raise funds for our community Improvment. The dancers had a choice of baked stake, or baked chicken, they ate and chatted, then enjoyed hours of square dancing in our club house.
WORKING HARD